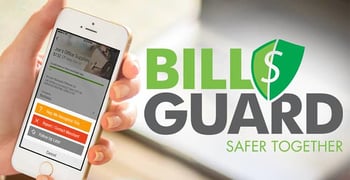 Experts share their tips and advice on BadCredit.org, with the goal of helping subprime consumers. Our articles follow strict
editorial guidelines
.
With so many data breaches in the news lately — Target, PF Chang's and JPMorgan Chase, just to name a few — consumers and data security experts are scrambling to find new ways to protect financial data for the average citizen.
However, data thieves are notoriously skilled at concealing their own identities and siphoning money out of consumers' accounts.
Personal finance security company BillGuard, also available as an app on iOS and Android devices, takes a unique approach to help consumers protect themselves from fraudulent charges on their debit and credit cards — using data aggregated from hundreds of thousands of other users, BillGuard will proactively alert its users if they receive a charge from a business commonly flagged by other users for fraud.
I spoke with BillGuard's CEO and co-founder Yaron Samid to find out how his technology enables consumers to stay on step ahead of cyber criminals.
The inspiration for BillGuard
While reviewing their credit card statement together, Samid and his wife found a charge they didn't recognize.
"I googled the charge and saw a countless number of websites and blog posts of other people being scammed by this charge," Samid said. "That gave rise to the idea behind BillGuard — imagine if you could harness all that collective human knowledge about fraudulent and unwanted charges on our credit card and debit card bills."
He then began brainstorming ways to alert consumers to fraudulent charges based on data accumulated from other people who experienced the same issue. The first place his team looked? The ubiquitous email spam button.
"When you click that button, it basically sends that data to a central database in the industry," he said. "Algorithms are run and that's how computers are taught the difference between a good email and a bad email. We were very inspired by that crowdsourcing methodology, and we pioneered the use of that crowdsourcing capability for transaction monitoring."
A few months and $3 million in seed funding later, Samid and data security expert Raphael Ouzan founded BillGuard in New York City in 2010.
How it works
Setup for BillGuard is similar to many other personal finance apps on the market — simply enter some basic personal information and the details about each of the accounts you actively use (credit cards, debits cards, etc.).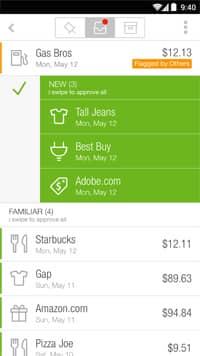 As you go about your daily business, using your card wherever life takes you, BillGuard will monitor each transaction for fraud. If you ever notice you've been charged twice by a merchant or charged by a merchant you don't recognize, simply swipe left.
BillGuard then adds your information to its growing database of user-generated information and helps you contact the merchant directly to resolve any issues. If you find out you've been scammed by an illegitimate business, then you would want to touch base with your bank or creditor to initiate your fraud protection.
"BillGuard makes it very easy, fast and effective to quickly review noteworthy charges across all the cards in your wallet and then take action if you find fraud," Samid said.
The company also sends out alerts to users who shopped at stores during a verified data breach, helping them proactively safeguard against fraudulent activity.
BillGuard makes it very easy, fast and effective to quickly review noteworthy charges across all the cards in your wallet and then take action if you find fraud.
Aside from fraud monitoring and protection, BillGuard actually works very well as a standalone budgeting app, giving behemoths like Mint, LearnVest and Check a run for their money (pun intended).
In its sleek and intuitive interface, users can sort each transaction into unique categories like "eating out," "kids," "pets," "rent/mortgage" and more, allowing them to easily track their spending habits month over month with helpful charts and other visual analytics.
Outpacing traditional banking security measures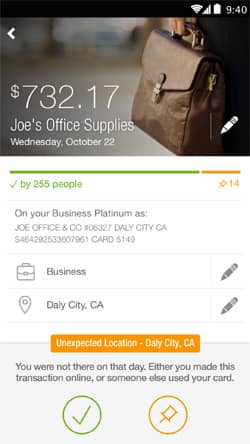 BillGuard's newest feature, Card Location Alerts, makes use of the GPS location tracking inside smartphones to take fraud prevention to the next level.
"[It] alerts you anytime your card is used at a physical location away from you. That's obviously a sign of fraud," Samid said. "We actually can track the location of your phone, and if the transaction occurs away from where your phone is, that's a pretty suspicious indicator that we alert people to."
He credits innovations like these and others to the decades of experience on his company's board. There you'll find a who's-who of data security experts: Ouzan, who worked with the IDF's programming and intelligence units; Amir Orad, who cofounded online security company Cyota; and Steve Elefant, a member of the U.S. Secret Service Electronic Crimes Task Force and the FBI's Infragard Electronic Crimes Task Force — just to name a few.
"Our DNA is data scientists and cyber security experts," Samid said. "We've also added tons of talented designers and UX  people who know how to build engaging user experiences. The contributions from folks like [Ouzan, Orad, Elefant, etc.] are mainly in the areas of innovating more analytics and algorithmic work to detect fraud and transaction data beyond what the banks can do."
Currently BillGuard runs "over 100 different algorithmic tests" on every transaction the system scans on a user's card.
However, the users themselves may be the most important component of the company's security network — you'll even find Benjamin Franklin's famous quote "we must all hang together or, most assuredly, we shall all hang separately" peppered around the site and app.
"This whole system doesn't work without the contribution of its users," Samid said. "If you don't interact with the product and don't flag transactions that are wrong and verify those that are OK, we don't have data, can't run our analytics and can't provide a service to anybody."
New partnership with Experian
On Nov. 4, BillGuard announced a new partnership with Experian, one of the United States' three major credit reporting bureaus.
"Responding to the recent wave of payment card breaches, the companies unveild an advanced identity protection suite, combining BillGuard's award-winning card fraud monitoring mobile application with Experian's award-winning identity protection product, ProtectMyID®."
Users will now receive a whole suite of new protections, including $1 million identity theft insurance, a real-time Internet scan for compromised credit and debit card numbers, free Experian credit report access and plenty more.
The bottom line
BillGuard provides consumers and innovative and unique way to protect themselves against fraudulent charges in an time rife with data breaches and cyber security threats.
You can download their app free for iOS and Android devices — Samid himself will send you an email to welcome you aboard. BillGuard also offers additional features for merchants and banks.
Photo credits: BillGuard