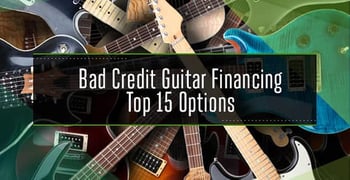 Every guitarist, from beginner to professional, will tell you that there's a guitar they've always dreamed of owning. Whether it's the rockabilly feel of a semi-hollow Gretsch or the versatile action of a classic Fender Strat, most everyone who plays dreams of one day owning "the one."
But what if your poor credit history is standing in the way of financing the guitar of your dreams? Fear not — we've researched the market and uncovered no fewer than 15 options for financing your dream guitar, even with a bad credit rating. Let's take a look at the choices for bad credit guitar financing.
Store Financing (#1-5)  |  Personal Loans (#6-10)  |  Credit Cards (#11-15)
In-Store Guitar Financing (#1-5)
A handful of music stores offer financing options for instruments and equipment purchased at the store, either online or in person. The following is a list of music stores that approve customers with a less-than-perfect credit rating.
1. FlexShopper
For purchases of $2,500 or less, users can lease-to-own a guitar (or another instrument) with affordable weekly payments. FlexShopper has flexible credit score requirements and won't require a down payment from most qualified applicants. You'll need to earn at least $1,000 a month and have an active bank account to qualify.

2. American Musical Supply
This store offers 0% interest payment plans, one of which doesn't require a credit check. All customers are pre-approved to make three monthly payments on orders that cost between $249.00 and $995.94, with no interest attached. To make monthly payments for longer than three months, you'll need a credit check. 

3. Guitar Center
With a Guitar Center Gear Card, you'll get exclusive financing offers. This includes payment installment plans with  0% interest for 24 months on guitar, bass, keyboard, and amp purchases that come to $699 or more. Guitar Center also has a 30-day layaway program, requiring 25% of the price total to be deposited up front.

4. Chicago Music Exchange
Online financing with Affirm allows customers to pay in 3, 6, or 12 months. Affirm implements a soft credit check to verify eligibility for financing. In-store financing with GE Capital won't charge interest until after 6 months of payments. PayPal's Bill Me Later offer is also a lenient financing option available upon checkout.

5. zZounds
The "Play As You Pay" installment plan is a simple, no-interest, automatic-approval option available upon checkout. You can choose 4-Pay, 8-Pay, or 12-Pay depending upon the price range of your merchandise. Only orders shipped to the U.S. are eligible for this program.
Picking a finance plan to accompany your guitar purchase makes the final price easier to handle. Oftentimes, paying in increments is more doable for customers, but be on the lookout for high interest rates or fees. The cost could end up being more than you anticipate.
Personal Loan Financing (#6-10)
Instead of involving yourself in a store-specific payment plan, you can easily take out a personal loan to finance your guitar. The BadCredit.org team has rated and approved the following five lenders as reliable sources of loans for people with bad credit.
The above options offer installment loans (for those who qualify) that allow you to pay the loan back over time, whereas the following two options are short-term loans of up to $1,000 that require the borrower to pay the loan back in a shorter period of time — more of a paycheck advance, if you will.
All five of these companies specialize in approving those with poor credit for a loan. Applying online is a quick process that can finance your musical purchases within hours. If you keep up with your monthly payments, you can earn a better credit rating as well.
Credit Card Financing (#11-15)
Have you considered using a credit card to finance your purchase? Not only do the following five cards approve those with bad credit, but they also report your payment history to credit bureaus, which can help your credit score in the long run. Besides, after landing the guitar of your dreams, you might need the extra spending power of a credit card to buy yourself an amp or case to accompany it.
While the above three cards are our top offers for those with bad credit, the following two are still viable options from reputable issuers.
Keep in mind that credit cards aren't a quick fix but a long-term investment. You will be responsible for paying back what you spend, but as long as you plan ahead and make your payments on time, you can avoid paying any interest on your credit card purchases.
Ready to Rock?
As you can see, the options for financing a guitar with bad credit are plentiful. From in-store financing to traditional lenders, there are a number of choices for you to consider when making your next purchase. There's nothing quite like picking up a brand-new, shiny guitar that still smells like its protective lacquer coating and strumming those first chords — and knowing you'll be taking that guitar home with you.
With these 15 financing tips, not only can you land the guitar of your dreams, but with regular on-time payments, you may also end up rebuilding your credit in the process.