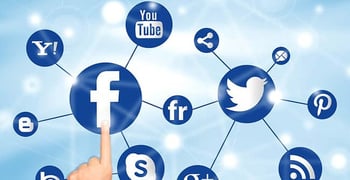 Experts share their tips and advice on BadCredit.org, with the goal of helping subprime consumers. Our articles follow strict
editorial guidelines
.
Social media gets a bad rap for self-important statuses and awkward selfies, but when used properly, it can serve as invaluable tool.
The power of Facebook, Pinterest, Twitter and the like can be harnessed not only for self-expression but for practical and business purposes as well.
1. Resources/advice
Rather than scouring the Web for information and recommendations on your latest project or query, try posting a status.
The feedback from your social circle is sure to be targeted to your needs and interests more than a random Google search.
I've seen everything from restaurant recommendations to housing searches to job inquiries answered through a single Facebook status.
2. Education
Now that every news outlet and major business has multiple social media channels, there is a wealth of free information and resources being shared on the Web.
Follow your favorite brands to stay up to date on the latest free articles and resources available. With the amount of original, quality content and information being shared on the Web on a daily basis, magazine subscriptions just seem redundant.
"Companies love to promote their

latest giveaways via social media."
3. Inspiration
The links and images shared on social media channels can serve as inspiration for your latest goal – be it losing 20 pounds, planning your wedding or starting your own business.
Pinterest is a great way to collect and organize your favorite posts and resources. The pin and board format serves as a kind of online vision board to keep you motivated.
4. Promotion
Just as social media is a great place to learn about businesses, it's also the perfect place to promote your business.
Whether you're trying to spread the word about your latest Etsy shop offerings or raising money for a cause, social media allows you to cast your network much further than any email or call list.
5. Freebies
In addition to free information, companies love to promote their latest giveaways and freebies via social media. You can win anything from gift cards to vacations just from liking or following a page.
And if you don't win, at least you're subscribed for all of the latest information on sales and promos.
Photo source: bloggingpro.com