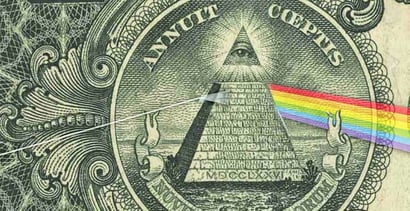 Take a break from your money worries and focus on something else – like songs about money.
Here are 25 money songs all about greenbacks and the love-hate relationship we have with them.
25. "Money, Money, Money" by ABBA
This 1970s favorite reminds us of the perks of having lots of money "in a rich man's world."
Favorite line: "I wouldn't have to work at all/I'd fool around and have a ball"
Release date: 1976
24. "She Works Hard for the Money" by Donna Summer
Hitting #3 on the Billboard Top 100, this song is based on an actual encounter with a bathroom attendant.
Favorite line: "She'll never sell out, she never will/Not for a dollar bill"
Release date: 1983
23. "Billionaire" by Travie McCoy
We want to hang out with Oprah and the Queen!
Favorite line: "We in recession but let me take a crack at it"
Release date: 2010
22. "Money" by Pink Floyd
With an unusual time signature, this song on money is sure to keep your attention.
Favorite line: "Share it fairly but don't take a slice of my pie"
Release date: 1973
21. "Mo Money, Mo Problems" by Notorious B.I.G.
The lesson on this one? Bringing in the dough can also bring in the issues.
Favorite line: "And I'm bigger than the city lights down in Times Square"
Release date: 1997
20. "Take the Money and Run" by Steve Miller Band
When you decide to cut loose, maybe you shouldn't take the money and run.
Favorite line: "Billy Joe shot a man while robbing his castle"
Release date: 1976
19. "Money on My Mind" by Sam Smith
You should do things because you love them, even if the paycheck is a nice bonus.
Favorite line: "Don't wanna see the numbers/I wanna see heaven"
Release date: 2014
18. "The Big Money" by Rush
Money can go either way – it does a lot of good and a lot of bad.
Favorite line: "It's a Cinderella story/On a tumble of the dice"
Release date: 1985
17. "For the Love of Money" by The O'Jays
The lesson? Money has a lot of power. Don't let it control you.
Favorite line: "It will keep on changing, changing up your mind"
Release date: 1973
16. "Gold Digger" by Kanye West
Be careful of people who are only after your money!
Favorite line: "Get down girl, go 'head, get down"
Release date: 2005
15. "Money" from Cabaret
Wondering what you can do if you have some extra money? This song will give you some suggestions.
Favorite line: "A buck or a pound/Is all that makes the world go around"
Release date: 1972
14. "Money for Nothing" by Dire Straits
There's a reason we're all jealous of rockstars – this lists just a few of them.
Favorite line: "That ain't workin' that's the way you do it"
Release date: 1985
13. "Money" by The Drums
We may be well intending, but as this song points out, you still need money for those intentions.
Favorite line: "So before we die let me do something nice"
Release date: 2011
12. "Free Money" by Patti Smith
Dreaming of money leads to some pretty nice fantasies. Unfortunately it's just a dream.
Favorite line: "Scoop the pearls up from the sea/Cash them in and buy you all the things you need"
Release date: 1975
11. "M.O.N.E.Y." by The 1975
This one warns of the kind of shenanigans you can get into with too much money.
Favorite line: "Look the dog won't bark if you don't lark about"
Release date: 2013
10. "Money Trees" by Kendrick Lamar
Be warned – this one's explicit. It focuses on what dollars can do. They "might turn to a million."
Favorite line: "It go Halle Barry or hallelujah"
Release date: 2012
9. "Money" by The Beatles
They say money can't buy happiness, but it buys things that make you happy!
Favorite line: "What it don't get, I can't use"
Release date: 1963
8. "I Get Money" by 50 Cent
There's definitely a shift in perspective from when you have no money to when you have a lot.
Favorite line: "Ha ha – I'm heading to the bank right now"
Release date: 2007
7. "Money" by Speaker Knockerz
It's important to admit when you're obsessed, especially if it's with money!
Favorite line: "You know that I'm married to the money"
Release date: 2013
6. "Money Maker" by Ludacris
The gist of this one is you should play like you work – like someone's going to pay you for it.
Favorite line: "Took your mama nine months to make you/Might as well shake what your mama gave you"
Release date: 2006
5. "Just Got Paid" by ZZ Top
This one's short and catchy – there's nothing like payday!
Favorite line: "It's the root of evil and you know the rest/but it's way ahead of what's second best."
Release date: 1977
4. "We Need Some Money" by Chuck Brown
At 31:25, you'll remember what it is you always loved having money on hand.
Favorite line: "I ain't got nothing against no credit cards, but the cash is the best"
Release date: 1984
3. "If I Had $1,000,000" by Barenaked Ladies
It's always nice to dream about the things we would do, if only we had the money!
Favorite line: "We wouldn't have to eat Kraft Dinner/But we would eat Kraft Dinner. Of course, we would. We'd just eat more"
Release date: 1993
2. "Make the Money" by Macklemore
With money, it's important to stay true to yourself. "Make the money, don't let the money make you."
Favorite line: "Time to look at the man in the mirror until I can learn to love him"
Release date: 2012
1. "Diaper Money" by The Lonely Island
As an adult, you often are forced into being more fiscally responsible, even when you don't want to be.
Favorite line: "So I stay on my hustle/To keep my pocketbook thick"
Release date: 2013
---
Photo credit: surfandabide.com
Advertiser Disclosure
BadCredit.org is a free online resource that offers valuable content and comparison services to users. To keep this resource 100% free for users, we receive advertising compensation from the financial products listed on this page. Along with key review factors, this compensation may impact how and where products appear on the page (including, for example, the order in which they appear). BadCredit.org does not include listings for all financial products.
Our Editorial Review Policy
Our site is committed to publishing independent, accurate content guided by strict editorial guidelines. Before articles and reviews are published on our site, they undergo a thorough review process performed by a team of independent editors and subject-matter experts to ensure the content's accuracy, timeliness, and impartiality. Our editorial team is separate and independent of our site's advertisers, and the opinions they express on our site are their own. To read more about our team members and their editorial backgrounds, please visit our site's About page.