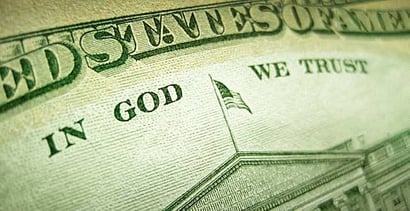 From big names to up-and-comers, BadCredit.org experts share their picks for the top resources in the personal finance industry.
Your money situation can often be overwhelming. There's so much to worry about and take care of that it can be easy to lose yourself in your struggles.
The important thing to remember is with some faith and financial planning, you can get through it. These 10 blogs will show you how.


Ramsey makes it his mission to guide others through the kind of financial turmoil he went through, showing them the light at the end of the tunnel. No matter where you are in your financial journey, he has insight to share because he's been there. He offers different plans for families, businesses and churches so everyone can get their finances in order.
Social Clout: 572,690+ Twitter followers; 2,472,710+ Facebook likes
Twitter Handle: @daveramsey

Do you want to make money or save money? Peter Anderson will tell you how to do both. He covers Christian personal finance topics like budgeting, eliminating debt, saving, faith-based investing and more. He even has videos with lessons and reviews to keep you invested – spiritually and financially – in his site.
Social Clout: 14,670+ Twitter followers; 2,330+ Facebook likes
Twitter Handle: @moneymatters


Bob Lotich believes our purpose is to give to those who need it. In order to make it, save it, grow it and give it, he offers useful tips, biblical revelation and practical wisdom on how to handle money. If you take his advice into account, you'll reap what you sow — more savings and more happiness.
Social Clout: 8,385+ Twitter followers; 41,020+ Facebook likes
Twitter Handle: @ChristianPF


This site focuses on growing your net worth and making you better off financially. It also does its best to help others achieve their financial dreams by donating all of its advertising revenue to charity. Talk about helping your neighbor!
Social Clout: 6,145+ Twitter followers; 1,030+ Facebook likes
Twitter Handle: @FMFblog


The Bible has more than 2,300 verses about finances. Tim takes these and uses them for inspiration on erasing debt and investing money. He works to make financial jargon more understandable, as well as past, current and well-researched articles that keep you informed about all the latest updates in personal finance.
Social Clout: 1,175+ Twitter followers; 2,260+ Facebook likes
Twitter Handle: @faithfinance


Tackle your debt using biblical principles and the advice of Matt Jabs. He is relatable and candid, making it easy for you to get on the same path toward freedom. Jabs will inspire you to pay off your debt, save, give and live your mission.
Social Clout: 3,345+ Twitter followers; 1,160+ Facebook likes
Twitter Handle: @MattJabs


Corrie says God led her to frugal blogs, showing her ways to save when she was laid off. Now she does her best to help others by sharing her frugal journey, as well as tips and techniques she's learned along the way. Whether it's with the Drugstore Game or Kindle freebies, she will show you how to save with fun and effective tips.
Social Clout: 8,225+ Twitter followers; 39,670+ Facebook likes
Twitter Handle: @centsablemomma

If you're looking for how-to strategies for savvy saving, Kelly Hancock is the woman to talk to. She began her blog as a way to share her hard-earned lessons of money management with others. Leaving her job in corporate America meant she cut her family's income by half, so she has plenty of experience when it comes to saving.
Social Clout: 7,395+ Twitter followers; 28,975+ Facebook likes
Twitter Handle: @faithfulprov


Amy Norton and Alyssa Francis use KFM to discuss the balance among faith, family and frugality. They'll show you how to stretch $5 and share all of the frugal must-haves. They're a savings resource you'll love having.
Social Clout: 11,120+ Twitter followers; 9,315+ Facebook likes
Twitter Handle: @kingdomfirstmom


Paying off debt, saving for a rainy day and giving with joy in your heart are all biblical financial principles. John sees how important these are in living a Christian life and uses The Christian Dollar to help people meet these goals. With hundreds of Christian personal finance articles and finance coaches, you can trust you're in good hands.
Social Clout: 475+ Facebook likes
Photo sources: newsworks.org, facebook.com, twitter.com, ahaeducation.org