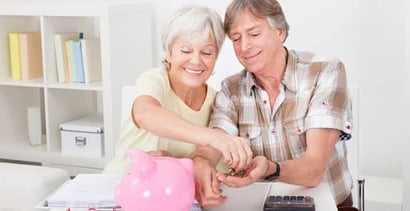 From big names to up-and-comers, BadCredit.org experts share their picks for the top resources in the personal finance industry.
The news is filled with scams and hoaxes that take advantage of older folks and their hard-earned savings. It's unfortunate and unfair, but fortunately there are people looking out for you.
These 10 companies are the epitome of finance resources for seniors. They'll show you how to manage your budget, get some great deals and enjoy life without money stress. Sounds good, doesn't it?


Not only does being an AARP member offer you countless discounts, but their website is a gold mine. You can find articles and advice pertaining to work, retirement and money. With content tailored to you, they teach you how to plan ahead and save, ensuring you get to enjoy all that life has to offer without sweating the petty stuff (like cash).
Social Clout: 1,145,615+ Facebook likes; 78,060+ Twitter followers
Twitter Handle: @AARP
URL: aarp.org


The largest, most viable buying group in America is seniors. With all that purchasing power, they deserve to find the best deals – and the best discounts. That's where Sciddy comes in, adding dozens of senior discounts to their list every day in addition to their news and games. With Sciddy, seniors pay less and that's a wonderful thing.
Social Clout: 2,030+ Facebook likes; 1,395+ Twitter followers
Twitter Handle: @seniorspayless
URL: sciddy.com


Focused on "boomers and beyond," ThirdAge offers advice across all spectrums of life. Financially, they offer guides to money and retirement – both of these are chock-full of articles and news. Covering everything from debt to your kids, they are an invaluable resource to helping you make smarter decisions with your money.
Social Clout: 4,445+ Facebook likes; 4,495+ Twitter followers
Twitter Handle: @thirdage
URL: thirdage.com
National Senior Citizens Law Center (NSCLC)


With 6.5 million seniors living in poverty, NSCLC fights for them to have quality health care and long term supports, as well as enough income to meet their basic needs. They are on your side, ensuring that you have what you need to get by. You shouldn't have to worry about these things, so they take care of them for you.
Social Clout: 415+ Twitter followers
Twitter Handle: @NSCLC1
URL: nsclc.org


More than 225,000 seniors can't be wrong for trusting All Senior Deals – in fact, they're right for doing so! Here you can find countless senior discounts, as well as even better deals. Nancy Meyers' goal is to get older consumers connected to the best savings opportunities out there, so you get to mix and match your savings.
Social Clout: 45+ Facebook likes; 5+ Twitter followers
Twitter Handle: @allseniordeals
URL: allseniordeals.com


At Senior Discounts, they believe saving money is what you deserve. They're the largest directory of senior discounts, with more than 250,000 listings. For when they can't offer you a discount, they have articles that teach you how to get the best deals on things like flights and taxes. You can rest easy that you're getting the most bang for your buck.
Social Clout: 110+ Facebook likes
URL: seniordiscounts.com


Medicare guidance from boomers for boomers – that's the principle behind 65 Incorporated. By not affiliating themselves with any insurance company, you can assure that they'll give you the best advice. Honest and unbiased, they help people avoid costly Medicare enrollment mistakes. With their advice, you can save thousands of dollars.
Social Clout: 1,805+ Facebook likes; 460+ Twitter followers
Twitter Handle: @Medicare65inc
URL: 65incorporated.com

With the help of Joyce Joneschiet, this online magazine shows you how to improve your living in your second stage of life. While they cover all sorts of topics, their articles on finance can't be beat. They'll keep you updated on the latest money news for seniors, as well as offer different tips for avoiding scams and saving your money.
Social Clout: 300+ Facebook likes; 1,410+ Twitter followers
Twitter Handle: @encorelifemag
URL: encorelifemag.com
Retirement and Good Living


Retirement is supposed to be a reward – after all, you've worked your whole life to get to it. Learn all you need to know about retiring from these folks. They'll teach you ways to manage your health and enjoy life, as well as stay on top of your finances. Learn how Social Security works, how to invest and thoroughly enjoy your retirement.
Social Clout: 155+ Facebook likes; 95+ Twitter followers
Twitter Handle: @RetirementSite
URL: retirementandgoodliving.com
Senior Veterans Service Alliance


Many senior veterans are unaware of just how many benefits they're eligible to receive. That's why the SVSA is here to help. The have in-depth coverage on pension, DIC, disability compensation and much more. Your work to protect the country has earned much more than our respect – make sure you're not missing out with their help.
Social Clout: 60+ Facebook likes; 1,185+ Twitter followers
Twitter Handle: @theSVSA
URL: veteransaidbenefit.org
Photo sources: twitter.com, seniordiscounts.com, seniorliving.net, facebook.com,
65incorporated.com